Hey Y'all!
Today is the first day of nanowrimo! YAY!!!! Or should I say was? The day is ending…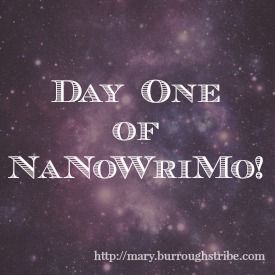 I had a goal of writing 5,000 words today. And I hit it. In fact I went over it 48 words! I know such a large amount. lol
I discovered that I write faster than I thought I did. Last time I really timed myself while writing it took me and hour to write a thousand words. Now I can, if on the roll, write over a thousand words in thirty minutes! NaNo is looking good guys!
I was planing on sharing my first paragraph with you guys, but that is going to have to wait til another day. I am heading to bed!
So happy writing guys! Whether you are doing NaNo or not. 😀